magic5 Professional
Comprehensive management of mobile forms and back office system
Take control with magic5 Professional
Let magic5 mobile forms put you in control of your paperwork, job management and reports.
1. Mobile forms for your mobile workforce
Transfer existing paper forms to mobile forms on a smartphone, tablet or PC.
With over 50 data entry types you can meet all the needs of your workforce
Millions of magic5 mobile forms have been completed  within a wide variety of industries.
Forms can be allocated from the office or selected 'ad hoc' on-site.
No data connection is necessary while completing the form.  Forms are sent back when a signal is available.
Customised data entry improves input speed, data integrity and consistency.
Accurate data can be made available onsite, improving the on-site experience for the worker and the customer.
Automatically move your forms to their next stage, whether its additional work, counter-signatures, reports, emails or third party software.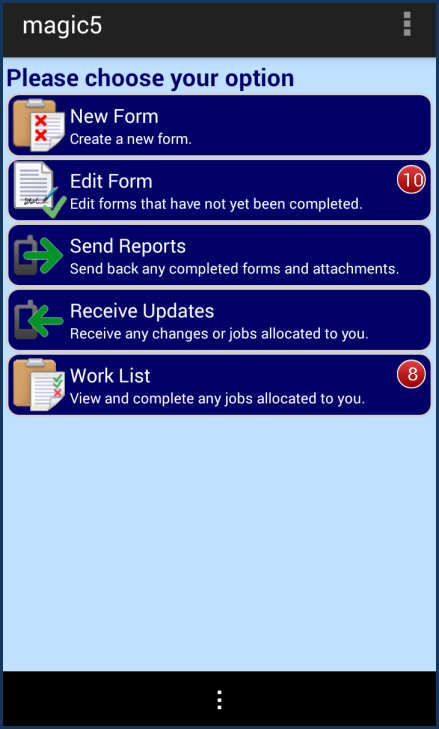 2. Job dispatch & management module
Create, allocate and manage jobs using the magic5 Job dispatch & management
Keep visual control with the drag 'n' drop graphical planner
Organise your workforce using simple or batch job creation and dispatch
Customised job details, with full customer and site details, job information and supporting documents and attachments – no need for mobile workers to visit the office
Import jobs from other systems using simple spreadsheets.
Monitor outstanding and closed jobs with graphical planners.
Automatically generate follow-up jobs.
E-mail alerts to users upon job assignment; job details changing; job re-assignment or de-assignment.
Filter jobs by workflow status; date range; customer; site; job type and user.
Create your own workflow stages to allow office staff to easily see what tasks require completion.
Real-time 2-way links to other systems available.
3. Back office form processing portal
Immediate access to completed forms for office staff and authorised customers.
Filter forms by workflow status; date range; customer; site; form type and user.
E-mail alerts to office staff and/or customers.
Batch processing of reports for status changes.
Customer login options with authorisation filtering.
Create branded PDF documents at the touch of a button
Export to Excel
Create branded Word documents from completed reports
Bulk PDF generation combines multiple forms as one output document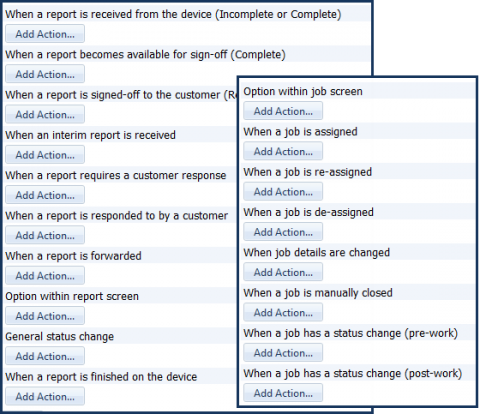 4. Workflow engine
Automatic e-mails to customers, office staff and users
E-mail PDFs, Word documents and Excel spreadsheets
Conditional updating of form statuses
Rule-based routing of forms and jobs to users or departments
Automatically generate follow-up jobs.
Real-time 2-way links to third-party or in-house systems
Follow-up notifications and job creation for contraventions and other actions
Automated creation of order and visit histories
5. Form and Job designers
Design mobile forms and job creation screens to send exactly the right details for your operatives
Customise off-the-shelf forms or start from scratch
You are in full control, whether you create 1 form or 101
Built-in template editor gives full access to over 50 types of data entry items
Text entry, drop-down lists, dates, multiple choice, dates, times
Signature capture, photos, attachments, action buttons, calculated values
Built in job definition editor gives full access to over 10 types of job information
Create, modify, duplicate and delete as often as you need
Include location maps, training documents, policy documents, manuals, product lists and guides
magic5 Add-ons are available for specific needs, such as GPS capture, summary forms, extended life-cycles