Creating jobs
with magic5 Professional
Job creation is easy with magic5

Single click to create a job.
Single click to create the 'next' one.
Entry fields tailored for maximum efficiency.
Drag 'n' drop planner option available.
High visibility of jobs in progress
Clear list view of jobs at different statuses
Customisable columns for each job definition
Powerful filtering
Calendar view planner option available.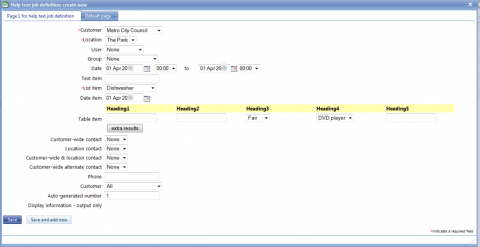 10+ job field types available
Readymade job definitions shipped with magic5 Professional (or add-on Pack).
Unlimited use of 10+ job entry field types available.
Optional permanent customer attachment to a particular job definition.
Tables with 5 columns & unlimited rows collecting text and list entry.
Output only information aids data entry integrity.
List and date field types
Job, quotation and invoice numbers are just a few uses for the unique auto-generated number.
Attached documents can be sent to assigned users and, optionally combined with a signed declaration form, will cover many workplace regulations.
Tailor for your own requirements
Copy and amend the standard job definitions to suit your own needs.
Create your own job definitions from scratch.
Mandatory fields.
Actions triggered as the job progresses
Automated emails sent at key points in the job lifecycle.
Change the status of a job with a single click
Create sub-jobs to relate 2 or more distinct jobs or visits to each other.